Alberta is known for its harsh winters and often times treacherous winter driving conditions. Whether you are driving within the city, taking a country drive, or going a bit further of a distance to visit the popular winter destination of the Rocky Mountains… you are likely to face common driving hazards such as icy roads and white-out blizzard conditions.
I'm sure most Edmontonians have experienced the almost daily Anthony Hendy, Whitemud, and Yellowhead winter backups. The fender benders and "highway graveyards" of vehicles in the ditch are both common sightings throughout the province. With all of this occurring so often in the winter months, it is important to ensure your own winter driving safety. A car accident can cause serious injury or death to all involved, not only the driver of the vehicle. As well, not only can the initial impact of a car accident be hazardous, but the potential of being stranded in freezing weather conditions poses its own hazards (Check out our last blog post – Hypothermia: Winter Safety Series (Part 2)).
Driving Safety Tips – Icy Roads
Driving on snowy, icy roads during a Canadian winter is all but guaranteed. Yet, many drivers are not equipped with the necessary skills or knowledge of how to drive in icy conditions. Here we have you covered with a few simple yet significant winter driving tips, starting with how to control your car when it slides in slippery conditions!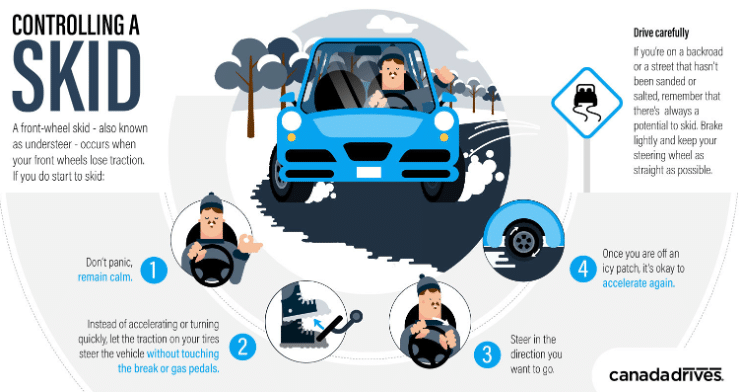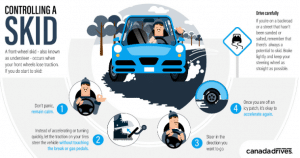 Before correcting a slide, it is important to know how to avoid losing control of the vehicle in the first place. When temperatures are below the freezing point, be sure to keep track of the precipitation and current road conditions BEFORE driving. The smallest amount of snowfall can make road conditions deadly. Bridges are especially dangerous because they are exposed to more airflow, resulting in the bridge roads cooling down faster than the adjacent road. Ice buildup is common on bridges making them a perfect place to unexpectedly lose control.
The best safety precaution to take when road conditions are unfavorable is to SLOW DOWN. Most fatal icy road accidents occur at highway speeds. The faster you are going the higher the risk – by preparing yourself before hitting the road and slowing down, you will greatly decrease your chances of losing control.
Prepare Your Vehicle for Winter Driving
Not only is preparing yourself important but ensuring your vehicle is properly equipped before attempting winter driving is key. Numerous Canadian provinces require vehicles to have winter grade tires on for the winter months. This will greatly reduce the likelihood of sliding and losing control. A step above winter tires would be to get studded tires for the winter months, which will give the vehicle optimal grip on those icy roads.
Often, visibility is overlooked as a root cause of losing control on the winter roads. If you can't see well through your windshield, you increase your risk of danger on the road. Therefore, it is crucial to ensure your windshield fluid is full and have an extra one in the vehicle for emergency refills. Before driving, clean off snow and frost from all windows to ensure proper visibility. Lastly, give your vehicle time to warm up before hitting the road to reduce the risk of steam buildup on the windows inside the vehicle.
Typically, your first instinct when you feel your vehicle sliding is to stomp on the breaks. However, this is the worst thing you could do! Applying the brakes will make the vehicle slide faster and spin more out of control. It is best to stay calm, take your foot off the gas, turn into the slide direction and look where you want the vehicle to go.
When getting ready for your daily commute, be sure to dress appropriately. It is best to avoid the worst-case scenario of being stranded on the side of the road underdressed for the weather conditions. People often overlook the need to have additional supplies in the vehicle while winter driving.
Here's a checklist of items you should always have in your vehicle for winter driving:
If you would like to know more or have any questions answered – Please reach out to a JADA Solutions team member and we will be glad to assist. Feel free to leave us a comment below and we will be sure to get back to you!