Health and safety training for JHSC members: an overview 
Joint Health and Safety Committees – an excuse to get coffee and donuts or a valuable workplace resource? The answer depends on you!
This is the third and final installation of our three-part Joint Health and Safety Committee blog series!
Part III – Joint Health and Safety Committee Meetings: Training
At this point, you have assembled a Joint Health and Safety Committee (or Representative), your first meeting has taken place.. now what?
It is now time to ensure those that require specialized training receive it. Therefore, all individuals involved in your committee (co-chairs and members), or your representative, are legally permitted to take the greater of either;
16 hours of health and safety training, or;
the number of hours they would normally work during two shifts (i.e., if you work 12-hour shifts, 24 hours of training).
Your employer must allow employees to take time away from regular duties to attend this training if sufficient notice is given. Meaning that if training occurs outside of regular work hours, compensation at the employees' normal rate of pay must be provided for this time.
Training can be on any topic that would benefit the committee or workplace; for example,
hazard assessment training,
incident investigation training or;
violence and harassment awareness training.
If you are a co-chair or representative, you are required to take a mandatory course offered by a Government of Alberta approved training agency. See a list of approved agencies here: 
https://ohs-pubstore.labour.alberta.ca/edu009
This mandated training course is between 6-8 hours in length. It also counts towards the aforementioned 16 hours of training (or shift length x 2). It covers topics such as:
roles and responsibilities of the committee/representative,
obligations of worksite parties,
rights of workers;
anything that will help the co-chair or representative achieve success.
The following table summarizes the training requirements discussed above: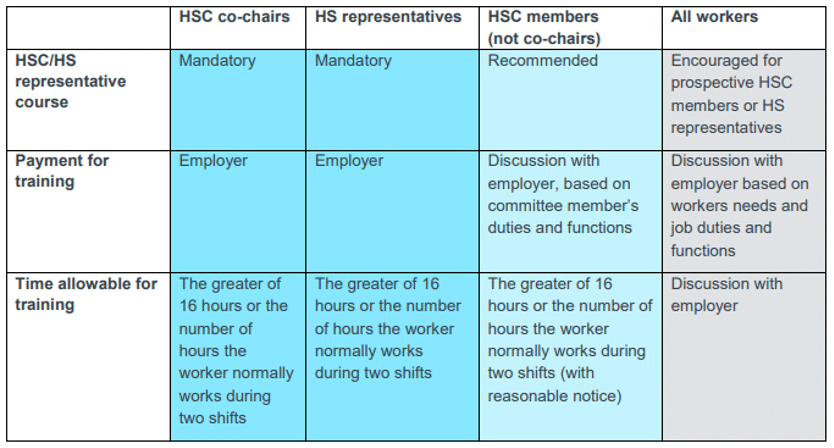 Source: https://bit.ly/2EF8jiT
Questions about Joint Health and Safety Committee training? Leave us a comment OR contact our team below!
Questions? Contact our Team for Answers!