You have likely attended WHMIS training at your workplace or through online training. However, it is easy for information to fade in your mind over time, or to become complacent. So, allow us to remind you of all that there is to know about WHMIS.
WHMIS stands for Workplace Hazardous Material Information System. Now you may be thinking, what is a hazardous material? A hazard refers to a controlled product or a dangerous good that can cause illness, disease, or death to unprotected individuals. It has aligned with the worldwide hazard communication system which is known as Globally Harmonized System (GHS).
Most of the time, incidents and illnesses in the workplace are a result of workers not knowing the hazards of the product that they are handling. WHMIS provides health and safety information in Canadian workplaces and is Part 29 of the Alberta Occupational Health and Safety Code. Those who do not follow the legislation can be charged with an offence.
The 4 Main Components of WHMIS
WHMIS has four main components to help workers identify and safely handle hazardous materials at their workplace: Classification, Labels, Safety Data Sheet (SDS) and Worker Education. WHMIS is also divided into two main groups of hazards: Physical and Health, which are further divided into different classes that have similar properties.
The example of the physical hazard classes would be flammable gases, oxidizing gases, corrosive to metals, combustible dust etc.
The example of health hazards classes would be skin corrosion/ irritation, respiratory or skin irritation, carcinogenicity, and biohazardous infectious materials etc. These classes further contain at least one category which is assigned a number (e.g. 1, 2. 3 etc.). Category may also call type which is assigned as am alphabetical letter (e.g. A, B, C etc.)
Labels are the most important part of WHMIS. It is the first signal that will inform the user about the product, hazards and basic precaution when handling any hazardous material.
There are two types of labels: Supplier Labels and Workplace Labels. Suppliers are responsible to label any hazardous product that they are supplying to their customer. The labels should be printed or written on or attached to the hazardous product container.
Once at the workplace, if the hazardous product is used in the same container provided by the supplier, then no extra labelling is required. However, if a hazardous product is transferred into another container (not used immediately or used by the same person), the supplier label is lost or damaged, or a new product is made from the hazardous product, then a workplace label is required.
Information Included on the Labels:
The supplier label will include the following information: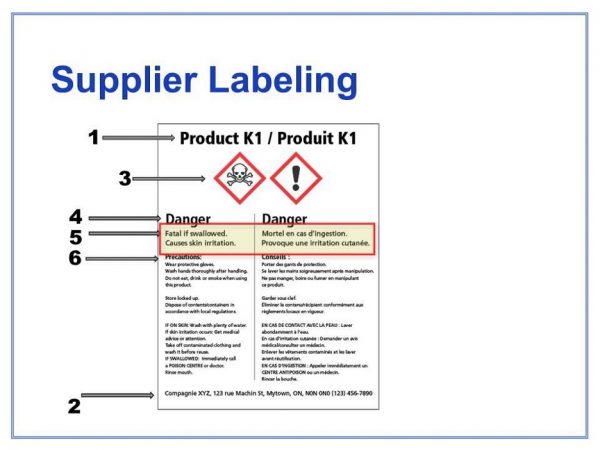 Supplier labels need to be updated if there are changes is in the classification, category or subcategory of the hazard product. However, a workplace label will only include product name, safe handling instructions and reference to the corresponding SDS.
As a worker on shift, always check the label when handling any hazardous product. Read the SDS for detail information about the hazardous product. (Check our "How to read SDS" blog). Moreover, do not use a product that is missing a label or label is not readable.
WHMIS Part Two – 10 WHMIS symbols and their meaning is coming soon…..
Questions? Reach Out to Our Team!